one of the best little towns in Oregon almost didn't survive the fires: can a local write-in candidate for mayor breathe new life into the town that time forgot?
(this is an official endorsement)
I have always loved Estacada. I used to take the bus out there to the Jackpot market 30 years ago and wait for Erik to borrow his mom's truck and bomb down the hill from Wildcat Mountain Road to scoop me up. Then I'd spend a couple nights or whatever up there doing whatever kind of chores were unique to rural living- wood chopping and brush burning and such.
That was back when everyone still had a 630 telephone number.

That was a long time ago.
Estacada really hasn't changed very much at all since those days when I was first introduced to a fish ladder. That can be a good thing, if you like ghost towns. But for people who have property values tied up in the success of the town, and people who hope to raise the next generation of Estacadians, a more sustainable version might give more hope for the future.
And a dispensary or three wouldn't be a bad idea either.
I first found out Estacada even had a mayor when I saw him all over the news apologizing for his heavy-handed yet geographically predictable response to the idea of rally for Black Lives taking place in town.

Here's the catch: he wrote his original controversial statement in the Estacada Neighborhood Watch Uncensored Facebook group. (I am not going to provide a link to them but you can imagine what an uncensored Facebook group in a rural community looks like during a time of historical civil unrest.)

"I would not and have not condoned these BLM Vigils in our community. All city staff and I are working tirelessly to shut these Vigils down. … Our number one concern is to keep our city safe and free from conflict."
Frankly I'm not sure what a mayor was doing in such a nasty group in the first place. Or what peer pressure lead to the unthinkable decision to disclose important city policy matters in such an unwelcoming platform. That is all in addition to how terrible the response actually was or how hollow the resulting apology was.

The second time I heard about Estacada's mayor was when I read an article from a local outlet where he was apologizing for mismanaging the communications for the evacuations during the large fires this summer that burned their way all the way to the very doorstep of town.

"This is a broken system. I want to try to fix it. I don't want to blame anybody. I don't want to make it anybody's issue, but I want us to get it right next time — if there is a next time, which I hope there never is."

He must not be from around here.
Actually he isn't. According to his bio on the City's website, he moved from Nevada with a "longing to live in a small town like the one he was raised". Well that somewhat explains why Estacada still looks like it did in 1991.

Estacada is being presented a choice by the rest of the world. Grow or join the countless other towns in Oregon now populated almost exclusively by tumbleweeds.
While new opportunities for job growth and expansion of industries offers the people hope for a renewal to the days of when the timber mills hummed steady – it's not sustainable if the city as whole isn't ready to welcome the rest of the world under the shade of its trees. Not if it refuses to grow. Not if it refuses to become inclusive and adapt to a new post-COVID world.
Mayor Drinkwine seems like a nice enough guy, but now is a perfect time to pass the torch – to someone more forward thinking and a little bit better at navigating technology.
Enter Nicole Gardner Austin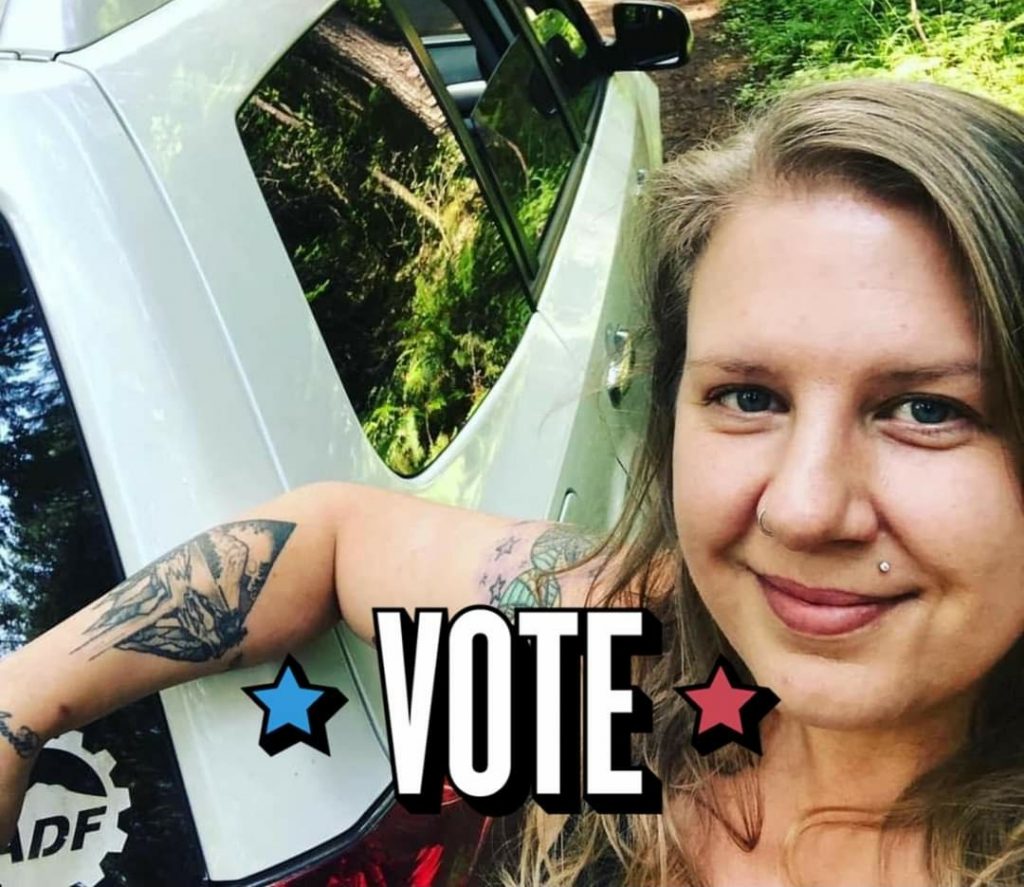 Nicole Garder Austin looks like the future of Estacada to me, wearing a pair of blue jeans and a hooded sweatshirt with Rangers written on the front.
It makes sense because she is Estacada through and through, being a graduate of both the local kindergarten and senior classes. She has a high energy crew with her as they zig zag through the city making sure everyone hears about her write-in campaign. One of those young women is her daughter, but you can just tell she's one of those kinds of people who is a mom to the whole community.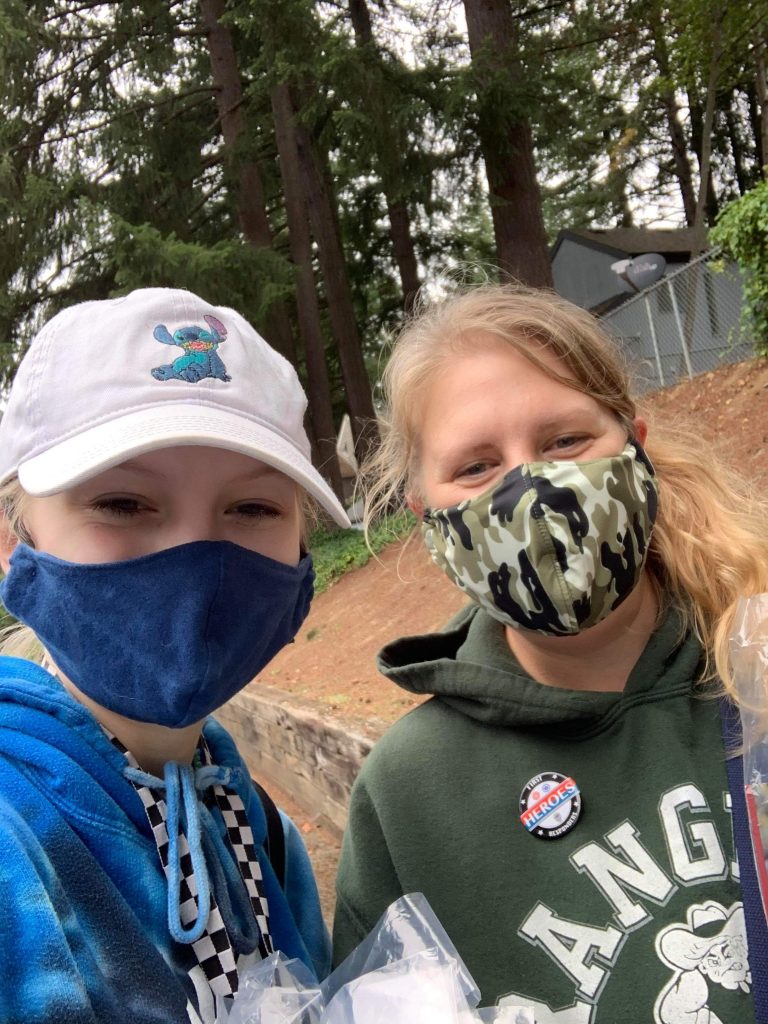 "being a mom is the most important job I've ever had" she tells me.
"it's in my nature to care for others. I care for my community a great deal."
The more I talk to her the more it becomes more apparent how completely different these two candidates are and what vision each one holds.
Her website is clean and easy to follow.
Her points are articulated and concise. Her vision is grand and inclusive and sustainable. Jobs and housing and small businesses for all the people who are certainly going to continue moving away from the cities. Her website talks of equity and health crises. Her face lights up when she talks about endorsements from the food cart and how excited she is to have a CBD store in town.
I noticed her website suggests there may be a path for cannabis industries.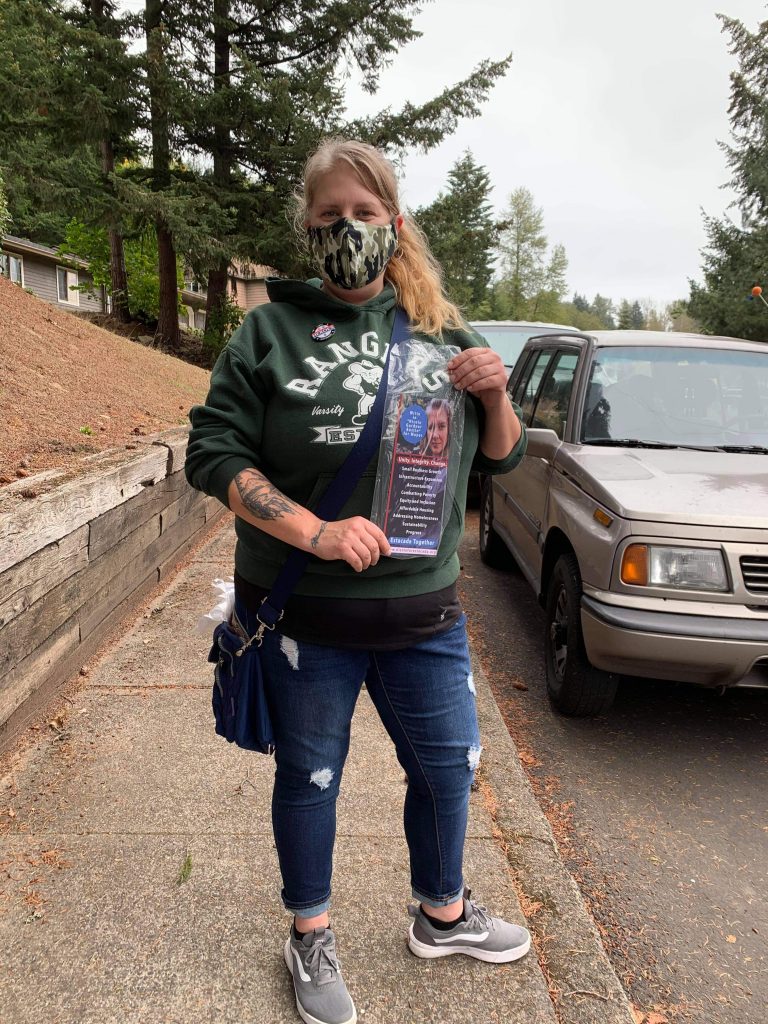 His vision is hard to articulate. He is running a unenthusiastic, unremarkable campaign – which is somewhat understandable for your average incumbent in an average year- yet this is no average year.

The economic collapse, the global pandemic, the forest fires, the rise of street protests are all individual issues important enough to the people who live in Estacada to at least update his info somewhere. A google search for any combination of Estacada Mayor Sean Drinkwine 2020 only brings up a bunch of bad press that reflects poorly on the city and a city-ran website that hasn't been updated since 2017. None of his promises to the organizers of the protests have been followed through on. A 5 question questionnaire provided to him by a local outlet went unanswered. Seems he's content to leave it be business as usual in Estacada and coast to another two years. Someone might be inclined to put a mirror over his campaign to see if it even fogs up.

There's an old colloquialism about if it ain't broken, don't fix it.
But then again there's something to be said for having the foresight to see when something is on the verge of breaking and performing preemptive maintenance. Estacada certainly isn't broken, and the resiliency of the community has been on display for all to see. But it doesn't need a mayor who only makes things more difficult for everyone.

Nicole Gardner Austin is working on creating an Estacada for her kid to live in.
Sean Drinkwine is continuing his work to make Estacada like the town in Nevada he grew up in.
11 years is already long enough for one person to be on city council, especially someone who wasn't even around for 630.
Estacada, you're a beautiful town full of good people.
Embrace a bright future.
Elect Nicole Gardner Austin for Mayor.