over ten million mink were slaughtered in Denmark after it was discovered they were spreading the virus to humans.
The headlines are ripped right out out from our futuristic collective nightmares.
"thousands of zombie minks rise from the grave"

But if we back away from that sensational attention grabber and look at the actual story, and it's developments through the month, it is no less disturbing. Oh and the rising from the grave thing- it's real – but it's due to gasses in the carcasses and rushed burial techniques. not actual zombies.
but this story is scary enough without those – especially to animal lovers and specifically mink lovers in either Demark or apparently OREGON.

so I'm gonna let the headlines tell the story in a linear fashion and I'll just try to steer the ship.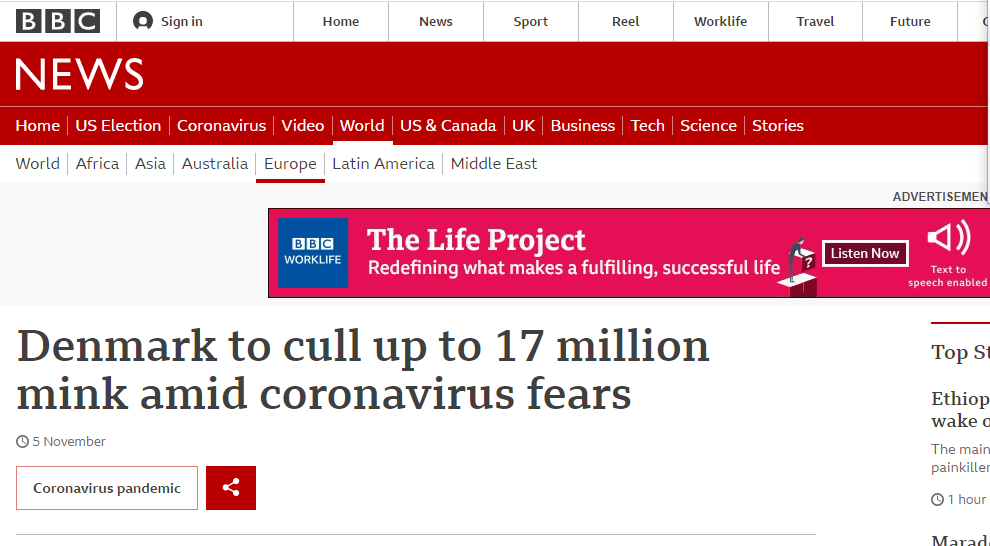 So, if you you ever need a nicer way of saying slaughter, use culled.

Cick HERE to read this BBC article from November 5. You need to read it.

but here is an excerpt that I took from the article:
"Coronavirus cases have also been detected in farmed mink in the Netherlands and Spain since the pandemic began in Europe.
But cases are spreading fast in Denmark – 207 mink farms in Jutland are affected – and at least five cases of the new virus strain were found. Twelve people had become infected, the authorities said.
Prime Minister Frederiksen described the situation as "very, very serious". Danish police and army personnel will help to carry out the mass cull.
Ms Frederiksen cited a government report which said the mutated virus had been found to weaken the body's ability to form antibodies, potentially making the current vaccines under development for Covid-19 ineffective."


Okay so then they killed at least ten million mink – and then found out it was against procedure- and now they are halfway through it.


Click HERE to read the article in Fortune from November 11.

But here's some good stuff I pulled from their article:
"At least 10 million Danish mink have already been slaughtered, after farmers acted on a government order that has since been retracted because it broke the law.
The fate of the animals, some of which were killed in such haste that there were eye-witness reports of thousands of mink carcasses strewn across a public motorway, provides a graphic reminder of the real-world consequences of a string of political missteps in Denmark that could have global consequences.
The country is grappling with a new mutation of the coronavirus found in its mink population. Prime Minister Mette Frederiksen says the variant has the potential to derail efforts to develop a Covid vaccine. The only option left to Denmark, she says, is to cull its entire mink population of roughly 17 million animals."
OK now lets talk about the zombie minks.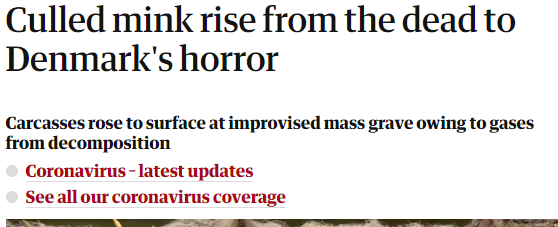 Click HERE to read this entire article in the Guardian from November 25.

Here are the best parts of that article, to save you some time.
"It was possible, however, that "small quantities of bacteria may still be trapped in their fur", he said, adding that it was "never healthy to get close to dead animals, so therefore this is of course something to stay away from".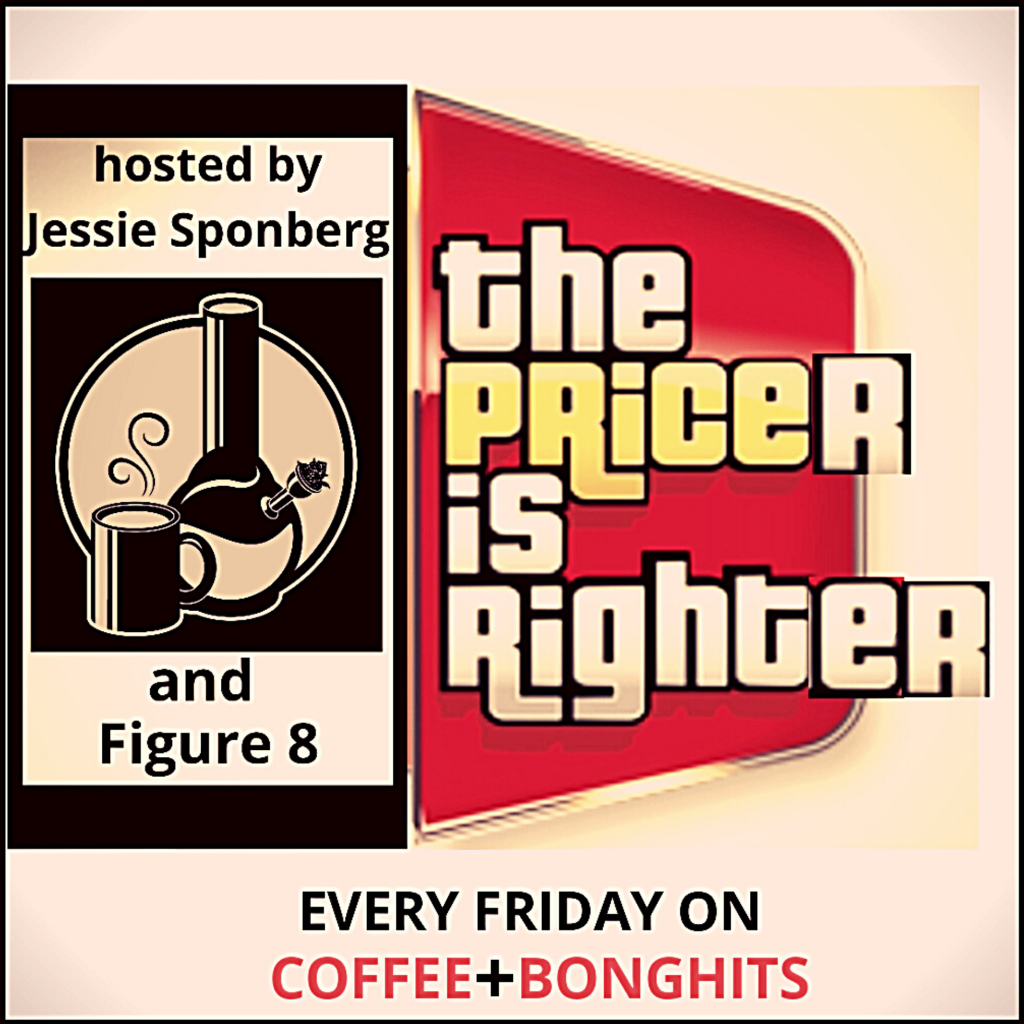 Denmark, the world's largest exporter of mink fur, announced in early November it would cull the country's more than 15 million mink after discovering a mutated version of the virus that could have jeopardised the effectiveness of future vaccines.
Two weeks later, and in the midst of a political crisis over the legality of its decree, the government concluded that the threat to human vaccines had "very likely been extinguished" in the absence of any further cases of the mutated version."

Okay so this is where I showed up.
Immediately my first thought was HOLY SMOKES WHAT IF THIS COMES TO OREGON IN A COUPLE MONTHS? That was on Thursday.

Then I wake up to this.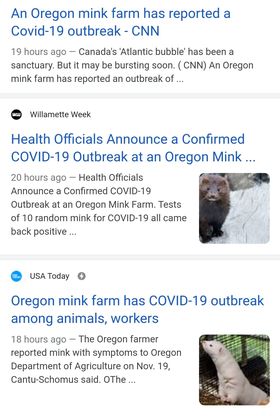 Oregon, Wisconsin, Utah and Michigan are all reporting cases tied to their mink industry and factory fur farms.
Click HERE for the link to the USA Today story.

And here are some of the more pertinent parts of it:
"Oregon Department of Agriculture spokeswoman Andrea Cantu-Schomus declined to say which county the farm is in or how many workers have tested positive, citing federal health privacy rules. The farm has about 12,000 animals, she said.
Outbreaks in farmed minks have been reported in several U.S. states and countries. Earlier this month Denmark announced it would kill all 17 million of the minks raised there after confirmation that 12 people had been infected with a mutated strain of COVID-19 that had spread from minks to humans. That strain has not been found elsewhere.
Oregon has the nation's fourth-largest farmed mink industry, after Wisconsin, Utah and Michigan. All three of those other states have had outbreaks on mink farms. "
Details are scarce, and I will keep this article updated as new information is released.
But I will say this, someday when the human race is finally eliminated. It will mostly likely be from a virus that originated because of the lack of compassion shown to animals all over the planet.


5000g